5-Stand – National Sporting Clays Association (NCSA)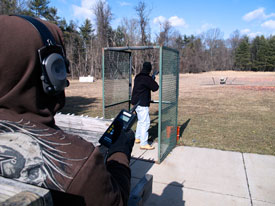 For those not familiar with it, 5-Stand is a clay target game that is sure to challenge any shotgunning enthusiast. 5-Stand consists of 5 different shooting stations from which each shooter gets to shoot 5 different target presentations. A full round consists of 25 targets per shooter.

At Loch Raven Skeet and Trap Center we have 8 traps involved in our 5-Stand operation. Each trap has a unique presentation from running rabbits, to springing teal, and also includes incoming, outgoing, quartering-away, quartering-in and other angled targets.

Up to 5 shooters participate in a round and shoot at each of the 5 stations or stands. On the first pass at each stand, the shooter gets a 2-Shot Single target from one of the numbered presentations. Next, each shooter gets what is known as a Report Pair of targets. This is where after the first shot is fired, the second target is released. On the third and final pass on each stand, the shooter receives a True Pair of targets with both targets thrown simultaneously. Each shooter then moves to the next stand. That's a total of 5-targets at each of the 5 stands for 25 total clays.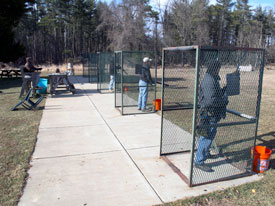 The beauty of our 5-Stand is that not only are there different presentations at each station, but the order of them can be altered each day. For that matter, the location of the traps themselves can be changed from time to time so that presentations can vary and different levels of difficulty can be added into the game.